Quintessential Part of the Beating Heart of Los Angeles
The Studio City neighborhood is a quintessential part of the beating heart of Los Angeles. Residents of this area live amongst the entertainment industry's elites like Bruno Mars, Miley Cyrus and George and Amal Clooney. You may even, often, see many of the area's celebrity residents at local establishments or coffee shops or strolling down the boulevard. Safe to say, when it comes to real estate that has the highest level of appeal, the Studio City neighborhood is perched close to the top of the list. The expanse sits north of the famous Hollywood hills in the southeastern section of the San Fernando Valley. Commuting to other lively spots in Downtown LA may only cost a 13-minute drive (depending of course on traffic). Destinations on the west side, like West Hollywood or Beverly Hills, are a breeze through one of the canyon passes. In terms of location, the neighborhood is quite centrally located.
It is easy to fall in love with this glistering suburban metropolis with a lot to offer residents, including highly rated schools, quite a selection of quality restaurants, great retail shops, a farmers' market and truly some of the finest neighborhood amenities. Studio City is mostly divided as "south of the boulevard" and "north of the boulevard". S.O.T.B., you'll find the hillside properties, along with the most notable exception being the Silver Triangle, which is flat land. N.O.T.B., though, is flat land and where the most walkable parts of the neighborhood are located. In the Silver Triangle you'll find a tree tunnel on Cantura Street, at the 12100 block, which is now designated as a historic landmark. (2)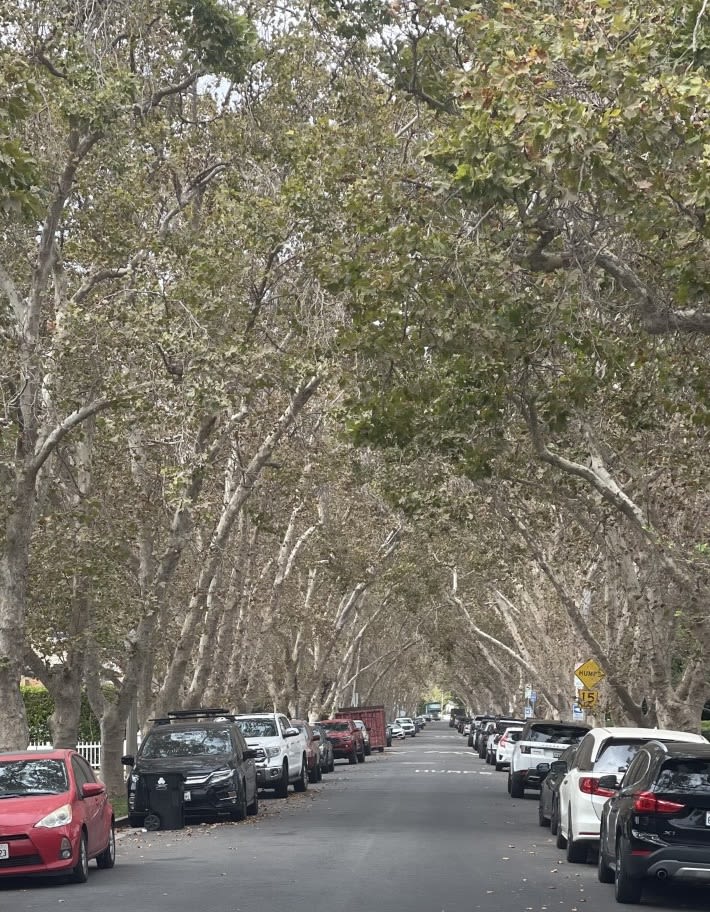 (Tree Tunnel at 12100 block of Cantura Street in Studio City Pictured Above)
N.O.T.B., you'll find great parks and recreation and other landmarks like the Brady Bunch house at 11222 Dilling Street. The hillside, S.O.T.B., Is where you'll find private getaway estate homes or homes with a "tree-house" feel to them. This is the area that can tend to feel like you're not even in Los Angeles anymore.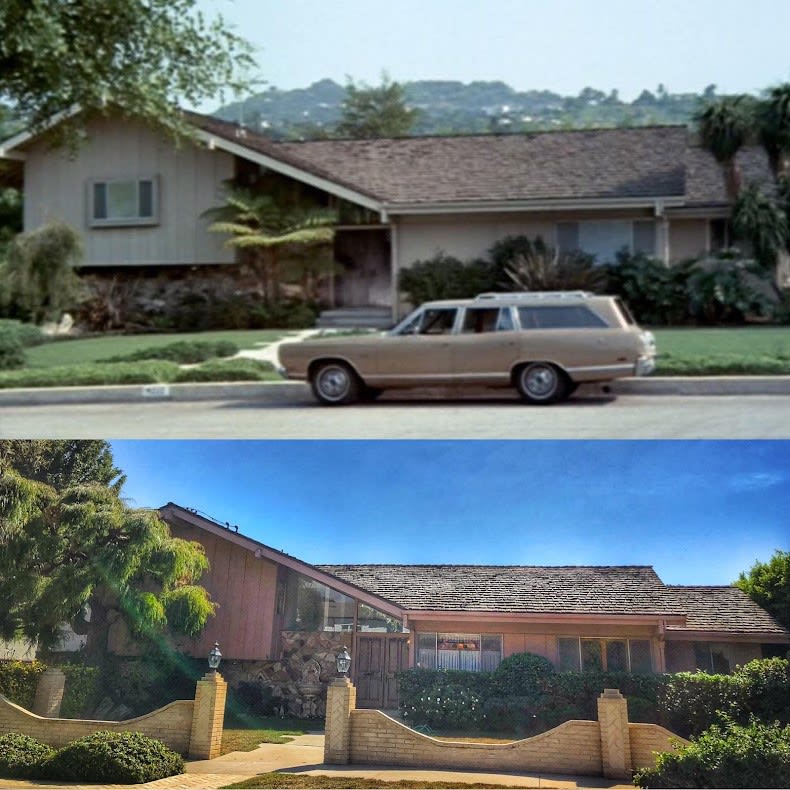 (Brady Bunch House Pictured Above)
So, if you have fallen hopelessly in love with the calm and vibrancy of this tree-lined neighborhood, here are seven things you should know about studio city real estate.
The LA Real Estate Pulse
LA's real estate prices can seem famously high, typically ranging from around a little over a cool half million for a small fixer-upper to well over over tens of millions for a single-family home, depending on the area. While multi-million-dollar homes are not a rare sight in LA's Studio City, real estate is relatively affordable here than in other parts of Los Angeles, when you factor in everything you get for the price.
According to recent statistics from realtor.com, the median price for Studio City homes stands at $1.5 million. (1) Condos can be fetched starting at about $600,000. If you're looking to possibly buy in Studio City, it's important to pay attention to what's going on at any given moment because opportunity does tend to strike when you least expect it!
Small Town Feel in an Affluent Suburb
LA can become overwhelming, and you can quickly lose yourself in the big city, but that isn't the case for Studio City. Instead, this area has a relaxed yet good vibe. It has some small-town charm but maintains its affluent dynamism.
Studio City presents the best restaurants, bars, shops, and charming boutiques. Here, you will never miss a beat with a fine selection of trendy A-list-owned establishments with frequent celebrity guests. In addition, you can benefit from quaint neighborhoods and dynamic relaxation spots. Take a hike up Fryman Canyon trail or people watch on the boulevard below, there's tons to keep you occupied.
Closing Costs in Studio City
If you plan to own a property in Studio City, you should pay keen attention to the closing costs that you have to pay for when you buy a home in the state of California. Closing costs are a mixture of taxes and service fees, and we're lucky because California's closing costs are some of the lowest in the country. So, if you are house hunting in Studio City, set aside about 1% to 2% of the purchase price for the closing costs.
While the seller will cover fees such as owner title insurance, real estate broker commissions and home warranty fees, there are additional expenses that you would be required to pay in addition to the home's price tag. These include and escrow fee, mortgage insurance, appraisal fee, and loan origination fees as well as discount points. The mortgage origination and discount points is actually what makes the closing costs a range from 1% to 2%. Depending on your choices of financing (or if you're not financing at all), your closing costs could be about 1% of your purchase price or less.
Another thing to remember is that California law does not require sellers to meet the buyer during the closing of a home. Therefore, it is alright to let your agent manage much of the communication throughout the transaction.
Investment Opportunities
Think of studio city not only as a great place to live but as an investment that will pay off significantly in little time. New developments are in the pipeline for the ongoing development of Studio City, and the surrounding area with urban developers focusing on infrastructure that will integrate this affluent suburb into the rest of bustling LA. This makes Studio City a great place to invest and let your equity grow. Some of these transformations to look out for include the development of the Harvard-Westlake River Park Campus, the Transformation of the North Hollywood Metro Station, and the construction of NoHo West. Remember, they're not making any more land in this centrally located neighborhood.
Keep Your Eyes Focused for Natural Hazard Risks
Real estate in mountainous locations, like part of Studio City, is often at risk of some natural hazards that are inherent to the type of topographical area. Hillside homes are more at risk of their foundation sinking, which can be a very costly problem to fix. As a local geologist once told me, all hillsides move. Before you close on any hillside home, it is best to hire a licensed inspector to examine the property's bones and foundation. A verbal geological report is also recommended for a hillside home.
Bear in mind that developers and engineers have been working ceaselessly on updating structures based on recent innovations and methods to reduce seismic risk. So, while a home may be listed in an earthquake-prone area, it doesn't make it (the home) unsafe to live in. This is simply something to have an awareness of and deserves further investigation.
Fixer-Uppers Need a Second Look, And So Do Properties with Home Improvements
Aside from scrutinizing homes that need a little TLC (tender love and care), be weary of properties with home improvements. Homeowners in the Los Angeles area are notorious for making home improvements without the necessary permit, often resulting in a mismatch between the home listing and county records. If any major home improvement or construction was completed without a permit, it becomes the responsibility of the new owner of the home and could turn out to be problematic. Do not let this be a barrier to your real estate plans. Instead, have a licensed contractor review the home's permits and technical specifications. A trip to the city of LA department of building and safety office in Van Nuys or website on-line is advised.
Studio City Real Estate Buying Season
The last thing you should know is when to make a move on purchasing a home in Studio City. Thanks to years of real estate price trends in LA and the Studio City area, we can say that the best time to make a move on your dream home is in spring. But, like the season, many fresh real estate openings continue pouring in till June.
Spring's pleasant weather and 'new beginnings' energy encourage buyers to house hunt. The downside is the market may be crowded, competitive, and slightly overpriced. However, you may have luck entering a good market and striking better deals around December and January that are considered off-season. Think about it for a second, if it's "off-season "perhaps the competition has taken off. Regardless of seasonality or what the climate of the local market is at any given time, situations are all just that; Situational. You never know just when that home that's perfect for you will come to market.
Bottom Line
Studio City's real estate is priced moderately compared to other neighborhoods like Bel Air and Beverly Hills, but the homes still represent the vibrant charm of LA and the 'Joie de Vivre' of its people. The real estate market in Studio City, Los Angeles, California, is booming, and so are the investment opportunities that await you.
The neighborhood's real estate is a beautiful colored cake, and Ventura Boulevard (with many top-notch restaurants and entertainment spots) is the cherry on top.
See a lot more about Studio City and search homes for sale in Studio City by visiting my neighborhood guide.
Citations
1. Realtor.com
2. http://clkrep.lacity.org/onlinedocs/2014/14-1199_pc_02-20-2015.pdf